BEST OF UK AMERICANA & COUNTRY. FEATURING AGS CONNOLLY & DANNI NICHOLLS - 22ND NOVEMBER - 4PM
** WE ARE WORKING ON A RESCHEDULED DATE**
TABLE OF FOUR. TICKETS HERE
TABLE OF SIX. TICKETS HERE
----
NIGEL CLARK (DODGY) - ORIGINALLY 28TH NOVEMBER - 5PM
** CANCELLED. PLEASE EMAIL: amy@brighthelmstonepromotions.co.uk FOR A REFUND OR CREDIT NOTE.**
----
GLEN MATLOCK (SEX PISTOLS) - 06TH DECEMBER - 5PM
** WE ARE WORKING ON A RESCHEDULED DATE/ LIKELY TO BE APRIL**
TABLE OF FOUR. TICKETS HERE
TABLE OF SIX. TICKETS HERE
----
TERMS AND CONDITIONS & COVID PROCEDURES FOR VENUE HERE
----
FURTHER INFORMATION ON ALL SHOWS BELOW
AGS CONNOLLY & DANNI NICHOLLS - 22ND NOVEMBER - 5PM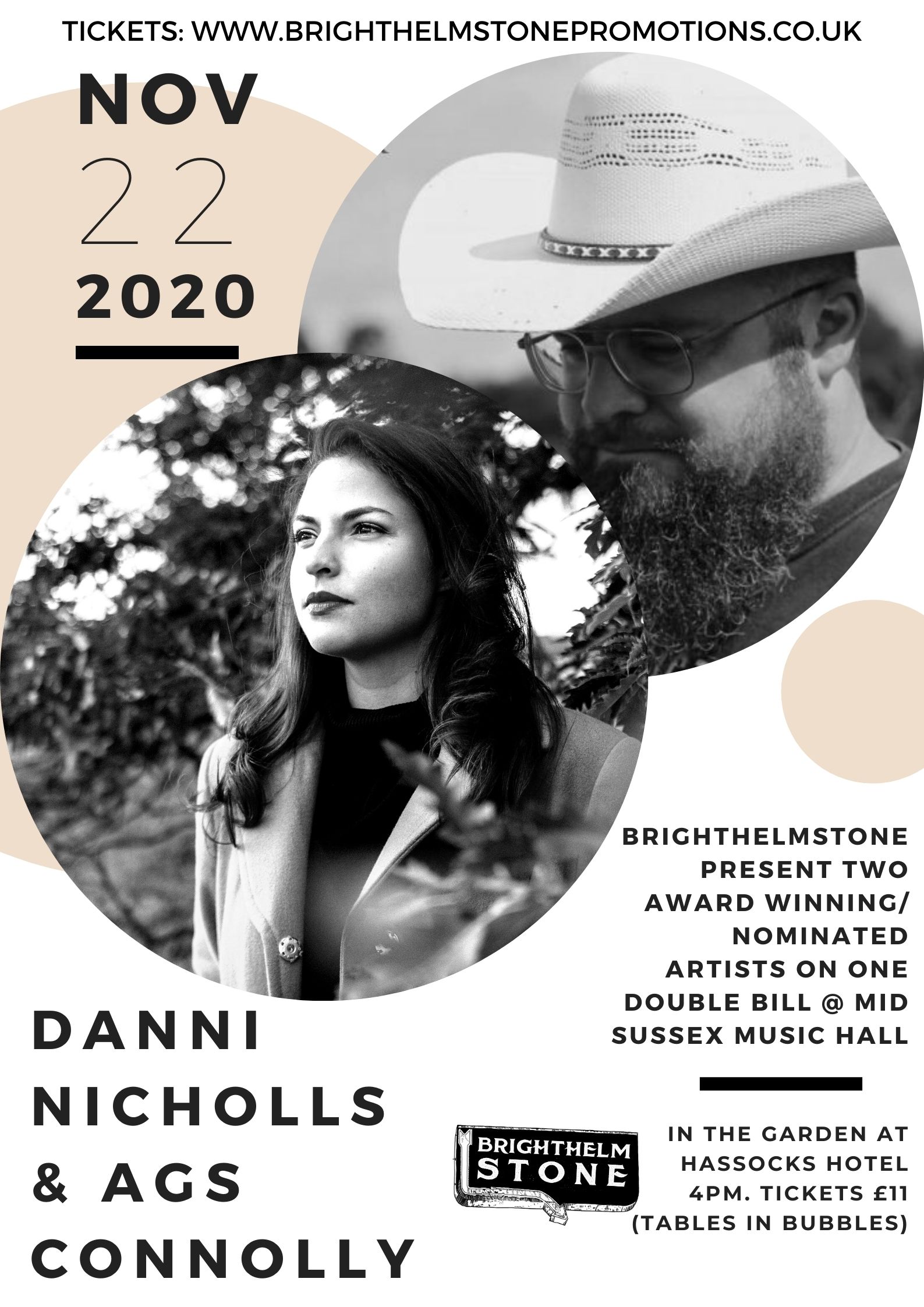 Best of UK Americana & Country show featuring 2020 UK Country Music Awards album of the year winner Ags Connolly and Danni Nicholls, Americana Music Association UK award nominated (Album, Artist and Song of the year in 2017, 2018 & 2020 respectively). 45 mins from each of these fantastic acts socially distanced should make for an excellent show.
Danni Nicholls
"I absolutely love the elegance and beauty of her music" - Bob Harris, BBC Radio 2
"One in a million…" - Maverick Music Magazine
"Sumptuous…a warm wry line in confessional songwriting" - UNCUT
Ags Connolly
"Deep and emotive" - Billboard
"The best singer-songwriter in the country field that this country has ever turned out." - Country Music People
"Modern day traditionalism of the very, very best kind" - Bob Harris, BBC Radio 2
----
NIGEL CLARK (DODGY) - 28TH NOVEMBER - 5PM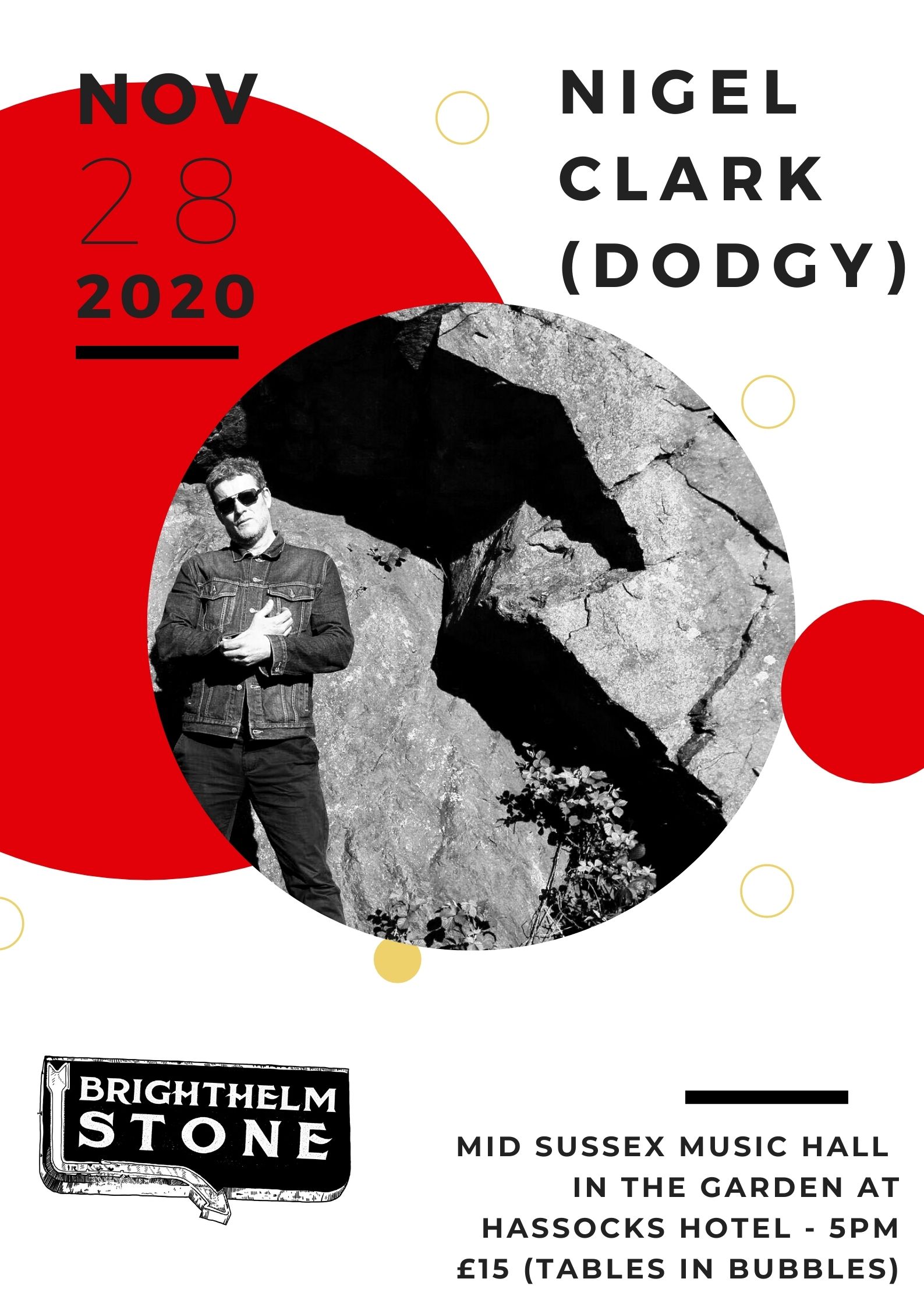 TABLE OF FOUR. TICKETS HERE
TABLE OF SIX. TICKETS HERE
Nigel Clark, lead-singer of indie band Dodgy will be playing a raft of socially distanced solo shows in Autumn 2020 including Hassocks Hotel Mid Sussex Hall in the newly formed Garden Stage Marquee. Expect some of Dodgy's smash hits as well as excellent solo material.
Nigel's first solo album Make Believe Love is out in December 2020. The album was written and recorded in 2000. Nigel returned to his home city from London after breaking up with Dodgy. Ready to do something new and fresh with friends, some of Birmingham's finest musicians, this album was produced and mixed by Nigel Clark & Jerome Di Pietro in the Custard Factory in the heart of town.
A self-financed album, Nigel was freed from any industry input and emotionally connected yet still raw. Once completed there wasn't the funds to see a tour come together or do an album release. It became a cathartic expression sitting on a shelf, only listened to and loved by close friends and the musicians involved in the collaboration.
Dodgy were together for seven years in the 90's, releasing three albums totalling over a million sales worldwide. Their 1994 breakthrough, gold-selling second album Homegrown features the hit single 'Staying Out for the Summer' which was the band's first Top 20 hit single. They quickly followed up in 1996 with album number three 'Free Peace Sweet' which spawned the hits 'In a Room', 'Good Enough' (which is officially one of the most played tracks on British radio in the last 20 years) and 'If You're Thinking of Me'.
----
GLEN MATLOCK - 6TH DECEMBER - 5PM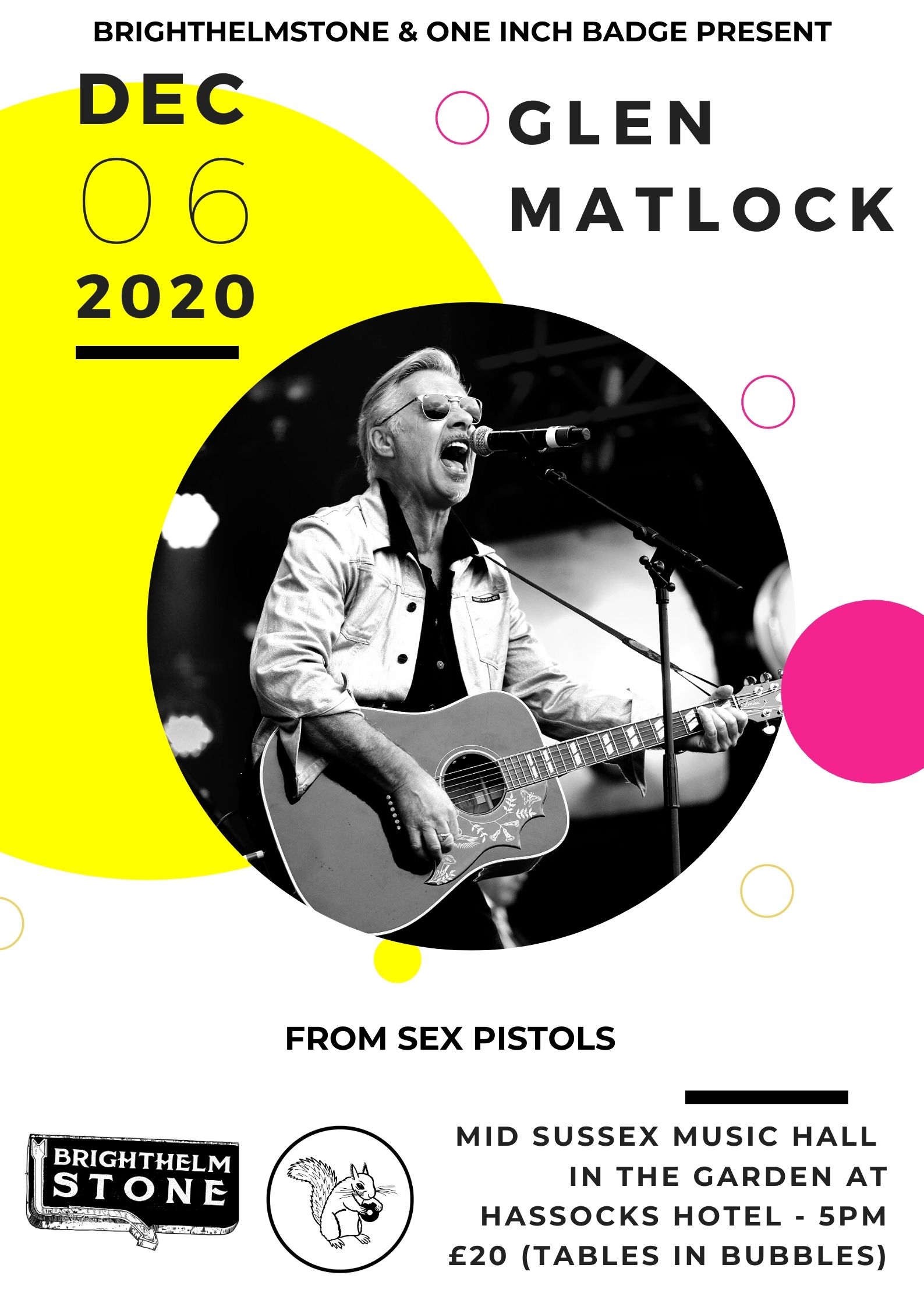 TABLE OF FOUR. TICKETS HERE
TABLE OF SIX. TICKETS HERE
Forever changing rock 'n' roll history as chief songwriter with the Sex Pistols, the evolving path walked by Glen Matlock remains unbound by genre, geography, & task.
His contribution to the Sex Pistols, and thus culture itself, is well documented. Penning the anthem Pretty Vacant, arguably the most famous punk song ever, Glen wrote the music to all the Sex Pistols classics, including Anarchy In The UK and God Save The Queen, creating the benchmarks for any aspiring rock band who followed in their wake. Periodic Sex Pistols reunions have allowed the world the chance to see Glen reaffirm his rightful position as the cornerstone of the Pistols. The Sex Pistols, however, represent only a fraction of Glen's legacy.
His next band, the Rich Kids, put out one of the most influential albums of the late 70s, Ghosts Of Princes In Towers, packed full of rock 'n' pop gems. Working with Iggy Pop, (who recorded Glen's song Ambition), during the 80s kept him sharp and sought-after with a body of work during this period giving rise to releases by bands such as The Spectres and Hot Club. In the 1990s Glen emerged as a solo force to be reckoned with. His album Who's He Think He Is When He's At Home? recorded for Creation Records, home of Oasis, was a full-on guitar album, blistering in its intensity, taking everyone by surprise. Not content to kick up his heels, the reinvention continued with a series of fine albums by his band project, The Philistines.
Invigorated in the wake of the Pistols re-emergence, Glen continued to record songs to rival those on Never Mind The Bollocks for swagger and craft. Open Mind, On Something, & Born Running were albums showcasing the full spectrum of Glen's prowess. Pile drivers rubbed shoulders with reflective refrains & personal lyrics. One highlight, Hey Mister, was seized upon by BBC radio.
It's not just Glen's solo work that sets him apart from the pack. Headhunted by artists from all backgrounds and styles, both in the U.K. and abroad, has seen him not merely contribute, but shape some of the coolest sounds around. Acclaimed cutting edge albums by Wendy James, Viv Albertine, International Swingers, and King Mob have been enriched by his input, while his own studio projects with Earl Slick & Slim Jim Phantom show a continuing rich vein of inspirational song writing.
In 2018, with both Earl & Slim Jim on board, he released Good To Go, a solo album that garnered a string of positive press reviews and feedback from fans, many believing it to be his best body of work to date. It's no coincidence that Glen's resurgence is mirrored by his frequent appearances on TV, from The One Show, The Wright Stuff and even the quiz show Pointless, where he proved a formidable contestant alongside Slim Jim Phantom. Glen was also the figurehead for the Anarchy Arias project in which songs from the punk era underwent transformation into classical mini masterpieces.