GARDEN SESSIONS TERMS AND CONDITIONS -
DETAILS REGARDING OUR FORTHCOMING SHOWS AT BOTTOM OF THIS PAGE. CHRIS DIFFORD (MR. DIFFORD CHANGES TRAINS)/ SATURDAY 19TH SEPTEMBER 2020 - 4PM/ EMAIL: AMY@BRIGHTHELMSTONEPROMOTIONS.CO.UK FOR TICKETS
Entry to outside venue:
Entry to the garden will be from the car park at the front of the pub (Hassocks Hotel), please follow the signs. We will not enter the garden through the pub to avoid queuing and to promote social distancing. Please note, right of admission is refusable and those people not following these rules may be asked to leave.
Tickets:
Tickets will be refunded if we feel it is not safe enough to proceed. The situation is monitored daily.
Refunds and Show Cancellations:
In the event of any proscribed shut down of the pub, including both local or national lockdowns in advance of the show start, a full refund or a transfer to a future concert will be offered.
In the event of the show being cancelled by Brighthelmstone, a full refund or a transfer to a future date will be offered.
Weather
In the event of the weather being too bad to stage the event (that is specifically a Met Office Amber or Red warning on the day of the event), a full refund or a transfer to a future date will be offered. Please note the garden is not covered and the event will continue in any other weather situation.
In all other situations tickets are non-refundable.
Other information
- Details of lead booker taken down for track and trace
- All tables socially distanced
- One way system
- Toilet facilities in main venue for outside concert only (Separate to Pub and public areas/ Limited numbers at one time)
- Hand sanitiser station to use upon entry
- Doors 4pm. Music starts at 4.20pm
- Car parking. So no need to use public transport. Venue 15 mins from outskirts of Brighton in Hassocks
- Capacity reduced to adhere to social distancing
An email with further instructions will follow on the day of show.
***SHOWTIME***
CHRIS DIFFORD (MR. DIFFORD CHANGES TRAINS)
Chris Difford is a Grammy nominated and double Ivor Novello Award winning lyricist. We are thrilled to host the co-founder of Squeeze at Hassocks Hotel (Mid Sussex Music Hall) for a solo show on the garden stage. Please email: amy@brighthelmstonepromotions.co.uk to book a table. Limited capacity on a first come first served basis.
DATE: 19TH SEPTEMBER 2020
DOORS: 4PM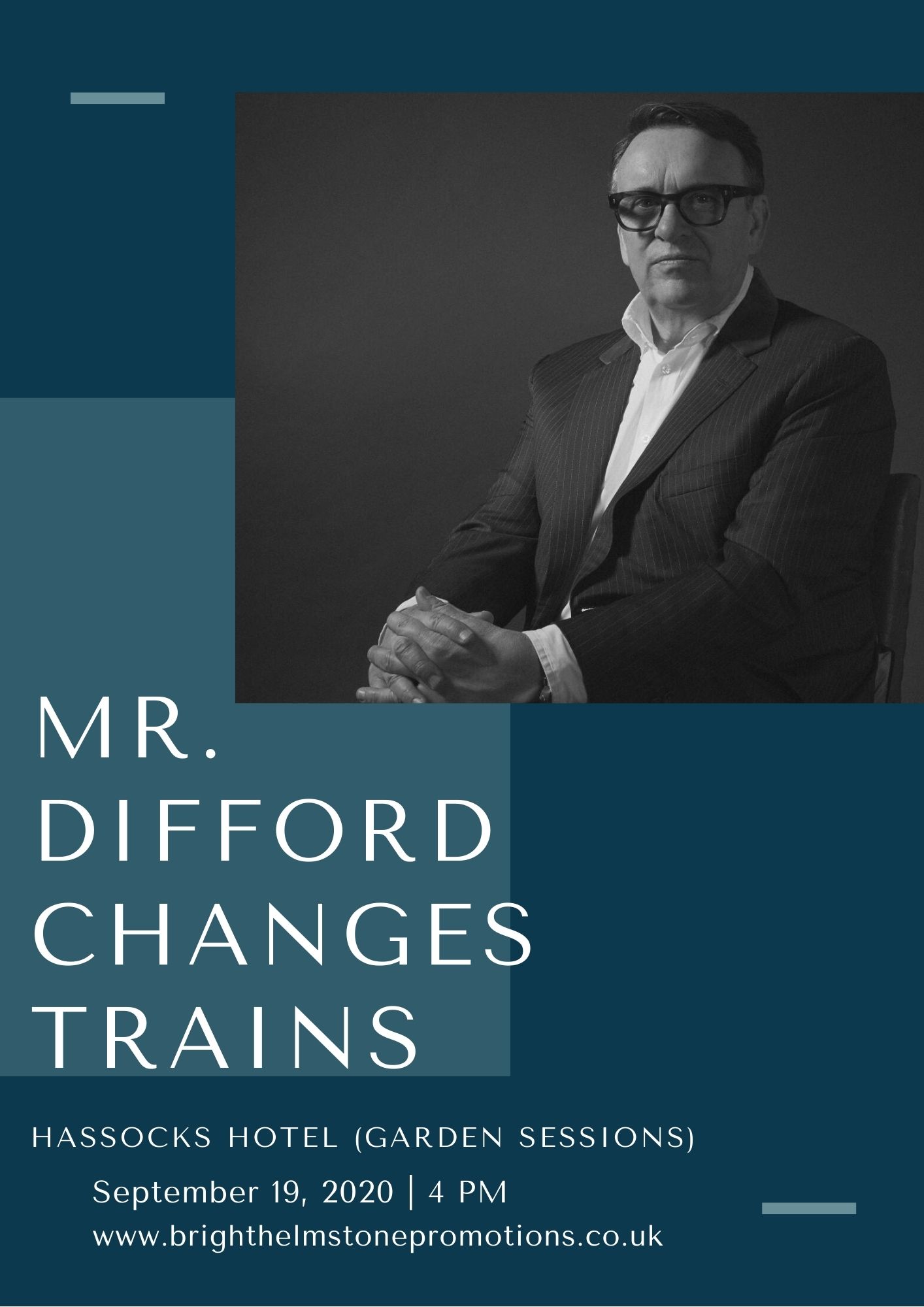 To book a table please email amy@brighthelmstonepromotions.co.uk
Tables are in bubbles of 4 (£88) and 6 (£132).
© Copyright Brighthelmstone Promotions