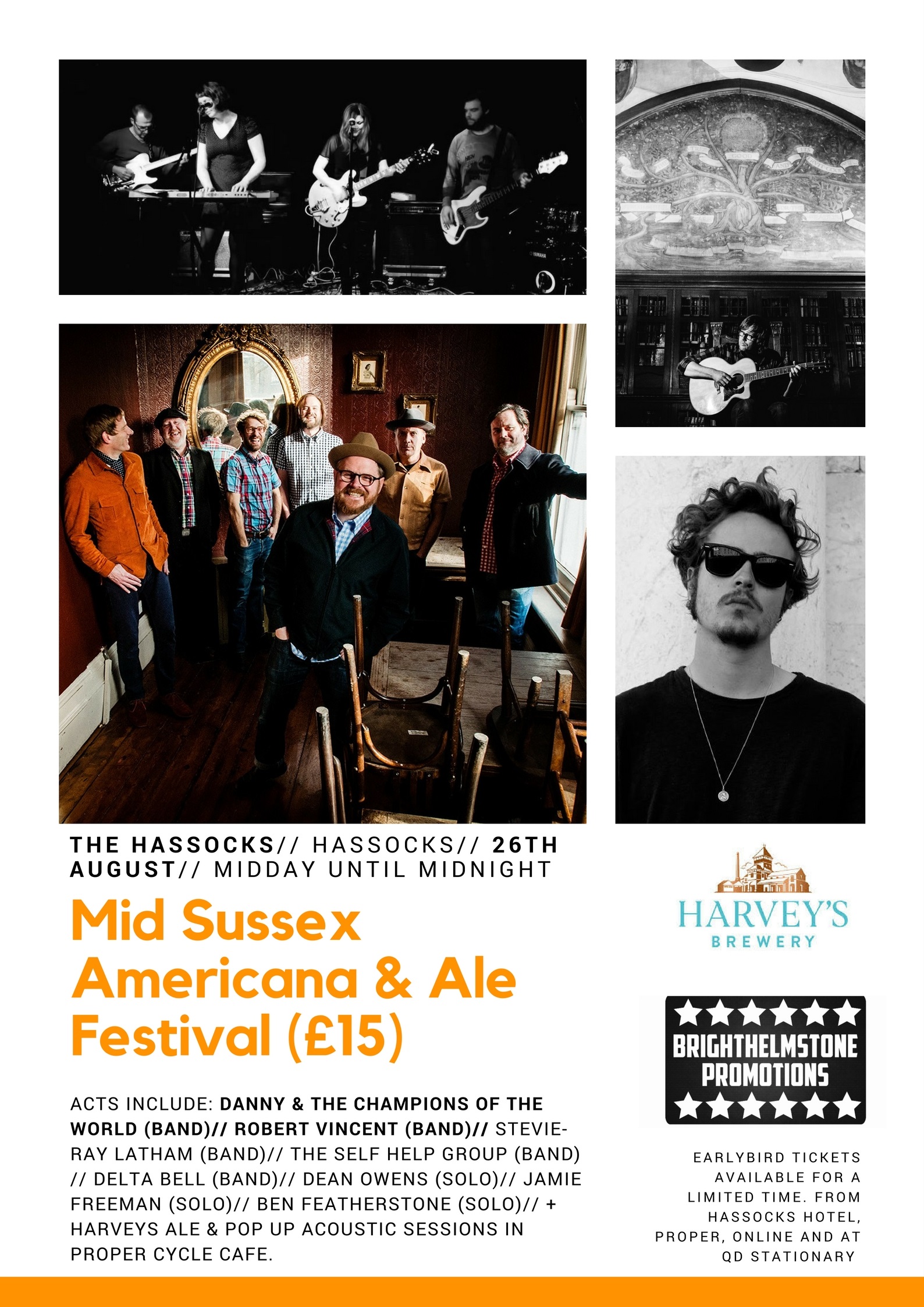 MID SUSSEX AMERICANA & ALE FESTIVAL - HASSOCKs
We are thrilled to have been asked by Hassocks Hotel to present the very first Mid Sussex Americana & Ale Festival on 26th August. The main stage is in the main room in the Hassocks Hotel, which is a hidden gem of a venue. There will also be pop up acoustic shows throughout the day at Proper Cycling & Coffee.

Like our previous festival Palmfest at The Palmeira in Hove, the focus of this festival is supporting the best Americana acts in the UK.

Tickets available at: The Hassocks Hotel, Proper Cycling & Coffee, Union Music Store in Lewes, Resident Brighton and online here

ACTS INCLUDE:
Danny & The Champions Of The World Playing with a full band.
Danny & The Champions Of The World with a full band. Danny & The Champions Of The World are one of the best live acts in the Country and triple AMA UK award winning.
"If there's a better country soul band in the UK, hats may have to be eaten" ★★★★ MOJO
"Imagine Springsteen filtered through a trunk of Stax 45s" ★★★★ AMERICANA UK
"Wilson's delivery is straight out of the Otis Redding playbook and it works." NO DEPRESSION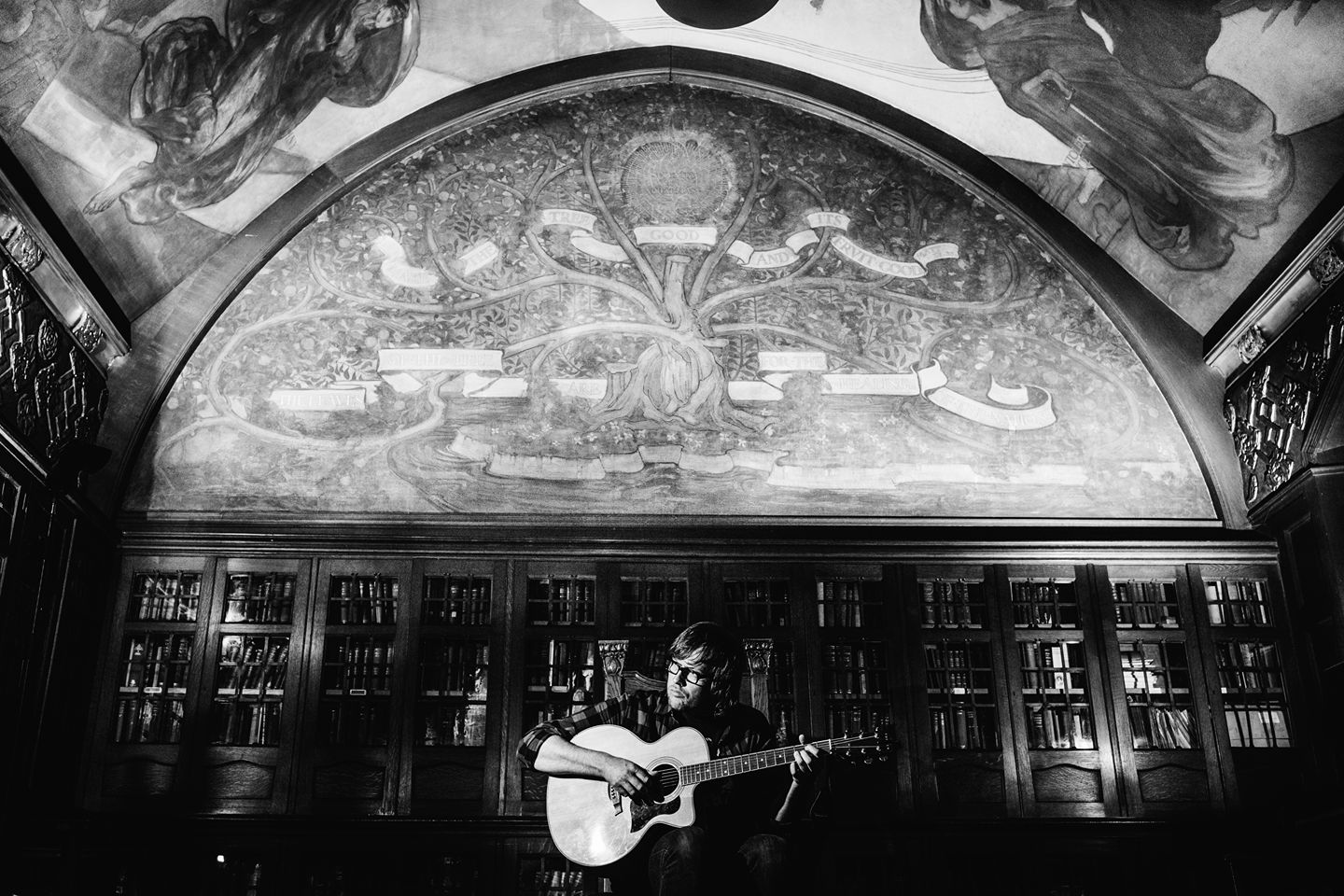 Robert Vincent Music Playing with a full band.
Robert Vincent is an award winning singer songwriter from Liverpool. Robert recently performed with The Pretenders at The Royal Albert Hall and has signed a record deal with Last Chance Records in the USA as well as with At The Helm Records in Europe.

"If you're seeking out a contemporary influence think Jason Isbell" - 3 chords and the truth

"What Oasis might sound like recast as brooding Americana Blues" - folk radio uk

"Now Is His Time" - Mojo Magazine
StevieRay Latham grew up surfing in the South West before moving to London to study Fine Art in 2011 where he first started performing live in folk clubs across the city. He graduated in 2014 and released his debut album 'Modern Attitudes' on At The Helm Records in 2015 whilst touring the UK & Italy. Sophomore LP 'Winter in London' followed in 2016 and Latham also collaborated with visual artist Laura Porter on a video and sound installation of the same name. The album garnered support from BBC 6 Music as well as regional radio stations across the UK & Europe.

"There is a powerful poetic modernity and an even more dramatic, often philosophical edge to his songs." - AmericanRoots UK

"More poetry than conventional lyrics, StevieRay is a stunning example of the merits of laying the lines bare to the listener." - Aural Jelly

"Bright young, rising star the music has a spark, and freshness to it." - Americana UK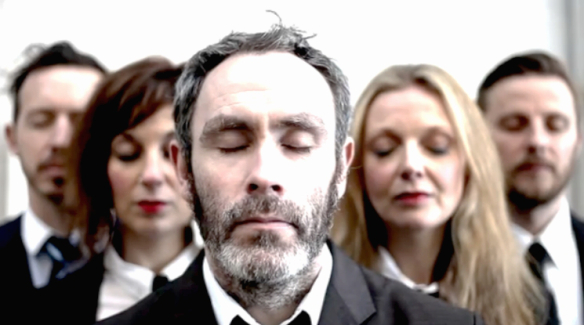 The Self Help Group Playing with a full band.
The band formed in 2009 when songwriter Mark Bruce decided to clean 10 years of dust off his old 12 string guitar and start writing some songs, recording initial demos in his darkened loft space in brighton.

Aided by the formation of a more solid line up, 2013 saw the band sign to the Union Music Store (Lewes) and release their "Stunning debut album (Maverick 4*)", gaining fantastic reviews and national radio play ("Absolutely wonderful, Bob Harris Radio 2").
On 6th November 2015 they release "Dead Stars", their second album displaying a more powerful, band driven sound, born from the energy of live performances and reflected in a darker lyrical subject matter, whilst retaining the beautiful harmonies from their previous work.

"Creates joy out of a dark and melancholy story" - Brighton Source

"Gorgeous" - BBC Radio Ulster

"...more jewels than a Spanish Armada, all wrapped in melodic gold." - Fresh on The Net



The Delta Bell Playing with a full band.
The Delta Bell is the songs of singer, musician and songwriter Kate Gerrard, based in Brighton, UK. Following the success of debut single Wasted in March 2014, her debut album Bow Out Of the http://thedeltabell.co.uk/Fading Light was released in July 2015 to critical acclaim, including a nomination for Best Female Vocalist by Fatea Magazine. The album features ten timeless songs of love, loss and redemption over arrangements of guitars, piano, pedal steel, harmonium and strings. Songs sweep from tender, intimate arrangements to warm orchestration and gospel harmonies.

"An original collection of thoughtful folk-pop that combines pedal steel & harmonium imbued tunes, flecked with alt-country, gospel & classic 60s girl group stylings…. very much a British original" – Beat Surrender

Proper Music Distribution – Top 100 albums 2015, and Top 50 indie albums 2015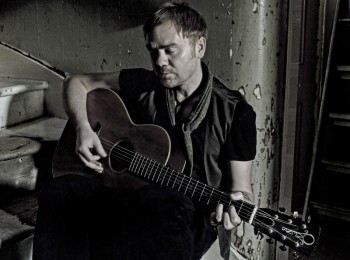 Dean Owens is one Scotland's finest singer/songwriters. Armed with a searingly soulful voice, skillfully crafted stories and memorably heart-twisting melodies, he is a compelling and engaging live performer, with an emotional hurricane of stories and songs. His band, The Whisky Hearts, is a mighty all star line-up who can rock up a storm, with subtle flashes of roots and twang. In September 2017 he will showcase at Americanafest in Nashville – the first Scottish musician to be officially invited to this prestigious international showcase.
For God's sake buy this album… Russell Brand
Magical… Ricky Ross (BBC)
One of the best singer songwriters in Scotland… Sunday Herald

Other acts include: Jamie Freeman (Solo), Robin Bennett and Ben Featherstone